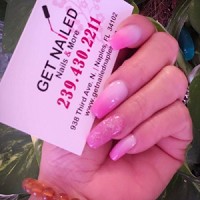 Get Nailed Nail Salon
938 3rd Avenue N
Naples, FL 34102

Here is all about the Business:
We are a full service nail salon. We offer Nail Dipping, Pink and White, Ombre, Manicures, Pedicures, Pedicures and Waxing.
Here is the deal for Cardholders:
We are offering a 20% discount to our RCC customers.
Here is what other Cardholders say:
Login now to write a review!