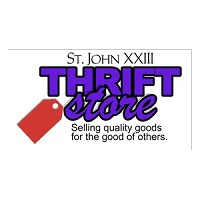 St John XXIII Thrift Store
15200 South Tamiami Trail
#110
Ft Myers, FL 33908
Here is all about the Business:
We're a medium sized thrift store, but mighty nevertheless. We have one pick-up/delivery truck, so accommodating our customers needs is an orchestra of scheduling. When it comes to scheduling a pick-up, calling the store directly at (239) 433-4097 is the fastest way to get our attention
Here is the deal for Cardholders:
Buy one pair of shoes and get the second pair of lesser value FREE with RCC Card
Here is what other Cardholders say:
Login now to write a review!